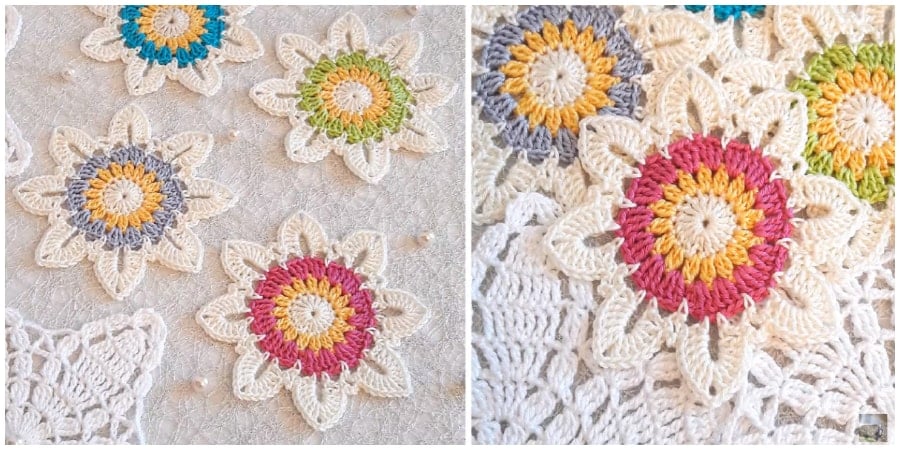 These tutorial for Crochet Flower patterns are just what you need to create all the pins and embellishments you can imagine. You can also crochet flowers for an everlasting bouquet. This easy crochet flower will be a delight to work up, and you will have forever fabulous decorations that will not disappoint. You can also use them to decorate your home by attaching them to frames or letting them loosely decorate a shelf. You can pick any type of yarn weight for this free video tutorial, and it gives you several different variations. If you crochet flowers, then you won't get to appreciate the beautiful scent of real flowers. On the other hand, you don't have to worry about watering them. This tutorial shouldn't be a problem for any level of crocheter. You won't be able to resist "growing" some of these to liven up your accessories and homes this autumn.
We also know they're beautiful, versatile and look pretty darn glam as wedding bouquets. So the next time someone asks you why you'd want to make crochet flowers, send them a link from here. Happy hooking!
Bookmark this page to visit us again. Also Be sure to save these projects to Pinterest by Clicking Image and Be sure to scroll down and watch the video tutorials too, you'll love this Crochet Flower Patterns For Beginners.

Click here to show tutorial
Crochet Flower Stitch is a specific crocheting technique, which you may or may not already be familiar with. If you don't know how to make one yet, you should definitely learn it, since they can be used in a variety of projects, such as blouses, scarves, shawls or even afghans. Also you can use this stitch for baby blanket patterns – Check out the source for the video tutorial here – Crochet Flower Stitch