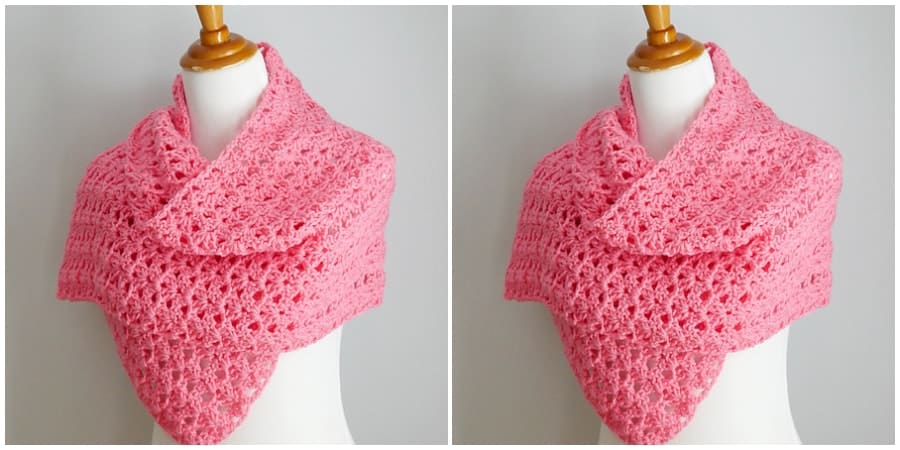 Crochet the Think Pink Friendship Shawl is a gorgeous and easy to stitch project for breast cancer awareness. Looks equally lovely in stripes of pinks too.
Crochet shawl is the perfect beginner's project. But let's face it, you can never have enough shawls, so no matter how experienced you are, you'll want to crochet up at least two or three of these fabulous designs. The big question is: which one first? We choose one for you ! The thing I like about crochet shawls is that they're just fun to wear. You can wear some of the more shawls to keep you warm, but otherwise, they serve as a fashion statement. You can dress up your outfit with some fancy lace shawls and a pair of heels or you can dress it down for lounging around. Crochet the Think Pink Friendship Shawl has a beautiful technique that allows you to create complex designs while working only with chains and double crochet stitches. It's the perfect technique to practice while making a shawl. This particular shawl uses the colors of fall to create a luxurious wrap great for the season.
Materials:
2 Skeins of Red Heart Super Saver in "Perfect Pink" (If you want more of a brighter/hot pink, "Shocking Pink" is a great choice also)
6.5 mm "K" crochet hook
Tapestry needle
Scissors
Tape Measure
Keep scrolling down the page for the Written Pattern + video tutorial link and Bookmark this page to visit us again. Also Be sure to save these projects to Pinterest by Clicking a long Image and Be sure to scroll down and watch the video tutorials too, you'll love this Crochet the Think Pink Friendship Shawl.

Crochet Shawl – Written Pattern
This is a more traditional infinity Crochet Scarf Pattern. If you have crocheted a lot of scarves, then you may feel like you've made them in every shape imaginable! Think again. The unique design of this scarf is bound to be different from what you're used to. Check out the source Here.