Instead of buying a bag, you can Crochet Bag With String Thread very fast. We're excited you're here and checking out all the fun and we hope you'll join in. You can use this bag for all season, it's universal. Your bag collection will expand so rapidly that you will have to pick and choose which crochet bag to bring with to your next destination. Don't waste plastic and paper bags ever again.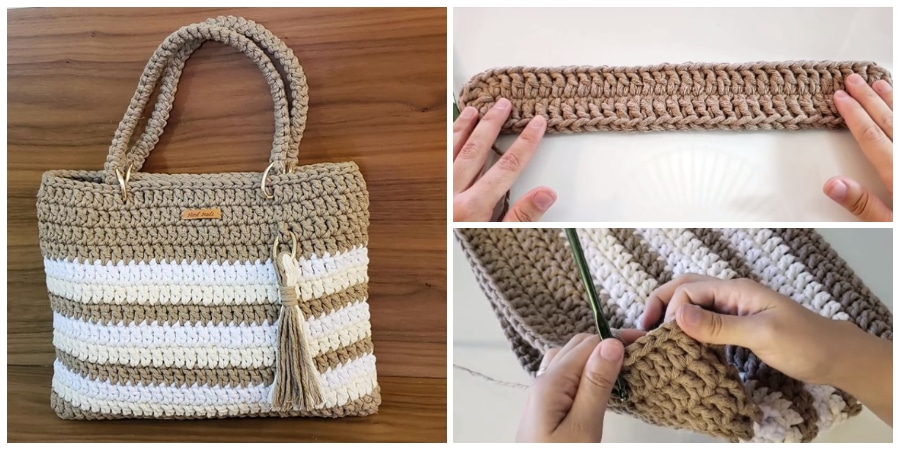 This Crochet Bag With String Thread works up super fast – make one this afternoon and carry it out tonight. Hope you guys enjoy this one, don't forget to post as a project so I can see your beautiful bags! Be sure to scroll down and be sure to watch the video tutorial too, you'll love this Bag.
Crochet Bag With String Thread
Crocheting a bag with string thread is a great way to create a lightweight and sturdy accessory. You will need to know how to crochet chains and single crochets. Start by making a chain that is the desired width of the bottom of the bag. Then, work single crochets in each chain across the row. Repeat this pattern for several rows, until the bottom of the bag reaches the desired size. Next, increase the number of single crochets in each row to create the sides of the bag.
Keep crocheting until the bag reaches the desired height. To create the straps, make a chain that is the desired length and then work single crochets along the length of the chain. Repeat for the second strap and sew both straps onto the sides of the bag. Finally, add any decorative elements you like, such as a contrasting border or tassels. The bag is now complete and ready to use! Remember to choose a sturdy string thread that can withstand wear and tear, such as cotton or hemp.

Follow Crochet-Kingdom.com on your favorite social media – Pinterest – Facebook – Instagram
Well I am here to take the frustration out of searching for your next pattern. I like to find and show you these independent designers and bring their fabulous projects to you. Please always visit and thank the individual designers for their generosity.
Happy Crocheting to you !