Quick Crochet Slippers – Learn to Crochet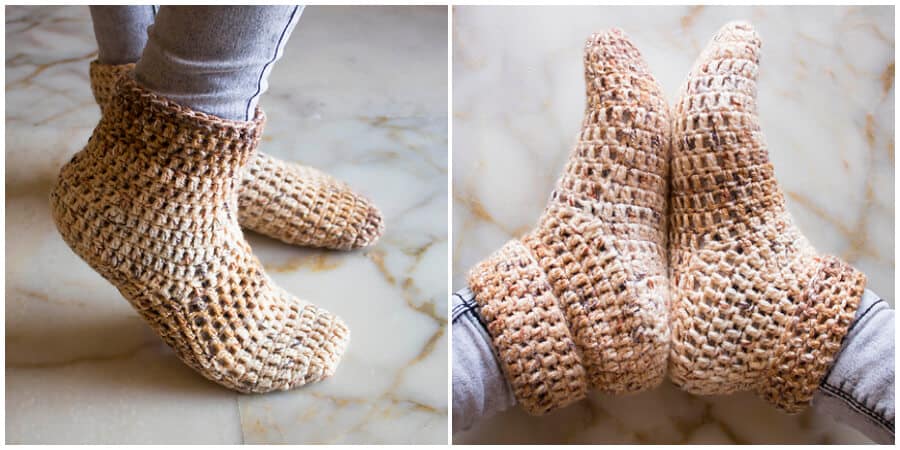 Make quick crochet slippers to keep your feet warm in the winter. You can make any size and It depends on you. You can make bigger sizes by using thicker yarn and a bigger crochet hook. You can use a multi-colored yarn as owner of this pattern did, or a solid yarn and then add some motifs or pompoms to spice it up. If your feet are always cold, this is a pattern you want to try. These slippers will keep your feet warm and they are great to walk on. Slipper patterns come in both easy and complex designs, offering something for every crocheter. They make great gifts; stock up on a bunch of them to hand out to every guest that comes to your home this holiday season. Wear these slipper socks when you're lounging on the couch, cleaning the house, or hanging out with friends. Enjoy !
Keep scrolling down the page for the video tutorial link and Bookmark this page to visit us again. Also Be sure to save these projects to Pinterest by Clicking a long Image and Be sure to scroll down and watch the video tutorials too, you'll love this Quick Crochet Slippers.

It's Super easy Slippers tutorial for beginners. If you've never slipped your feet into a pair of handcrafted crochet slippers, then you are really missing out. The comfort and coziness of crochet slippers can't be beat. Check out the source here – Crochet Slippers/Shoes