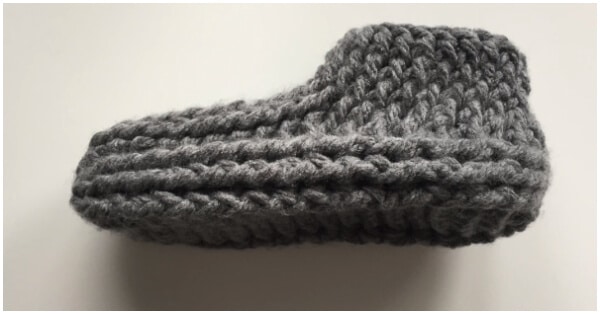 These Super Easy Crochet House Slippers are nothing fancy, just a simple slipper. These would be great to stuff in your purse to wear at others homes if you get cold feet. However, these slippers are comfy enough to wear around the house all day long. There are several different ways to crochet slippers, and thanks to Stephanie Zed for variety within these designs, you'll be able to learn a techniques to keep you intrigued as you craft. Get your hands busy with yarn and the crochet hooks to create the lovely pairs of the crochet slippers.
For Wider:
Rd 1 = 14 Dc
Rd 2 = 28 Dc
Rd 3 = 8 fpdc, 3 bpdc, 3 fpdc, 8 bpdc, 3 fpdc, 3 bpdc = 28 Dc
This will create a wider top and sole and keep the sides the same.
For More Narrow. Try decreasing the top and sole.
Rd 1 = 12 Dc
Rd 2 = 24 Dc
Rd 3 = 6 fpdc, 3 bpdc, 3 fpdc, 6 bpdc, 3 fpdc, 3 bpdc = 24 Dc.
This NEW slipper tutorial is geared for men or women who have a longer foot and want a little more coverage. If you've never slipped your feet into a pair of handcrafted slippers, then you are really missing out. The comfort and coziness of crochet slippers can't be beat. And of course there's special satisfaction when you've crocheted them yourself. These Super Easy Crochet House Slippers is a quick crochet project that should take you no more than a few hours to complete.
Before you dive in, it would be a great idea to head to Pinterest and create a "Easy Crochet Slippers Pattern" board if you don't already have one. (You can see my Easy Crochet Slippers Pattern board here.) All special stitches are explained in detail.
The video tutorial you'll find below will take your through every step of the process from beginning to end. What's more, you'll also need very little by way of tools and supplies. Comment below if you have any question… Let's start !