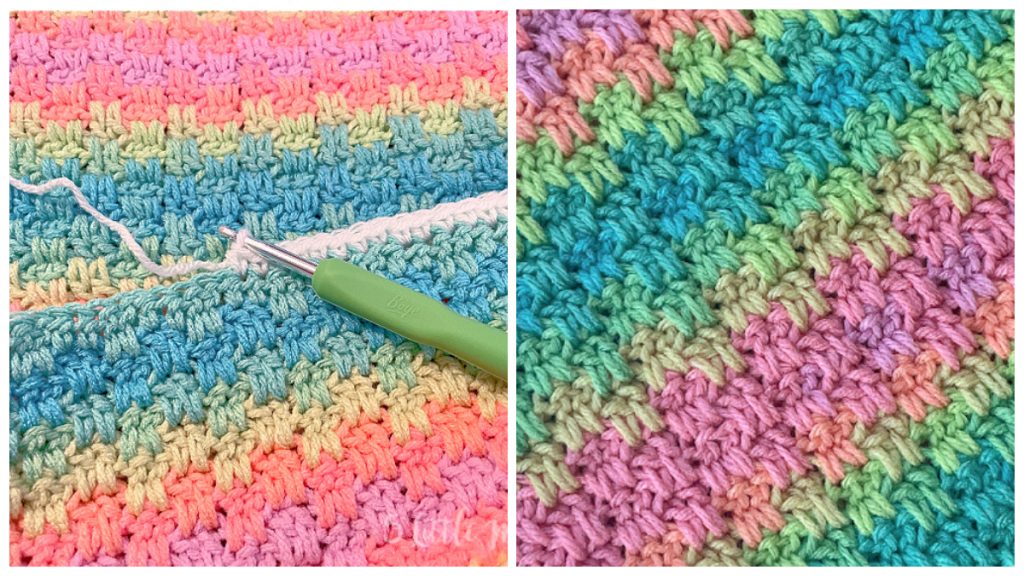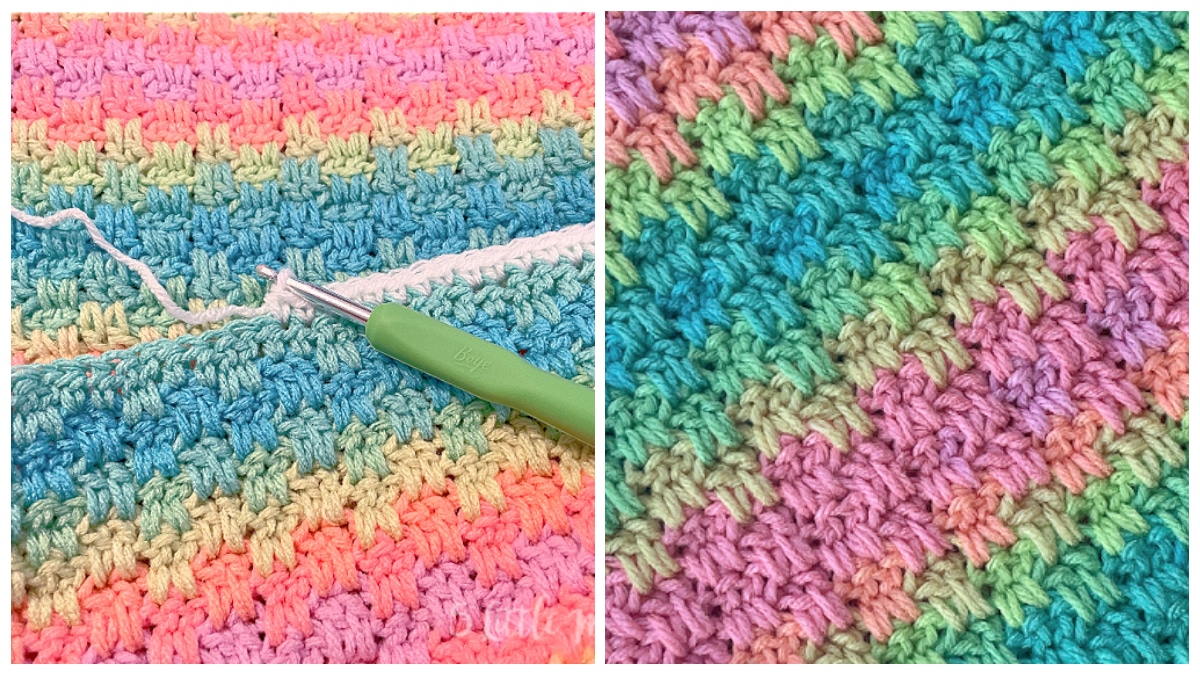 This Crochet Bloque Stitch Blanket is made using the bloque stitch, which is an interlocking stitch where you work into unworked stitches from previous rows. This creates a nice, thick, solid fabric without any holes. The staggered texture created by the stitches works really well with self striping yarns. The pattern is written for a small baby size blanket but can easily be adjusted to be different sizes. It is finished off with a simple single crochet border.
Crochet Bloque Stitch is an interlocking stitch, where some of the stitches are worked into stitches 2 rows below, not just the previous row like you normally would. This gives the stitches a kind of staggered look and I thought it worked really well with the self-striping yarn because it blended the colors in a really cool way. The stitch still has a neat texture when worked in a solid color yarn, but I really love the effect with the striped yarn. 
It's a great crochet stitch if you're looking to improve your crochet skills. Crochet is a hobby that can be enjoyed by the whole family and this may just be your next crochet project.
If you want to learn a unique crochet stitch, get ready to start your new crochet project.
Interlocking Crochet Stitch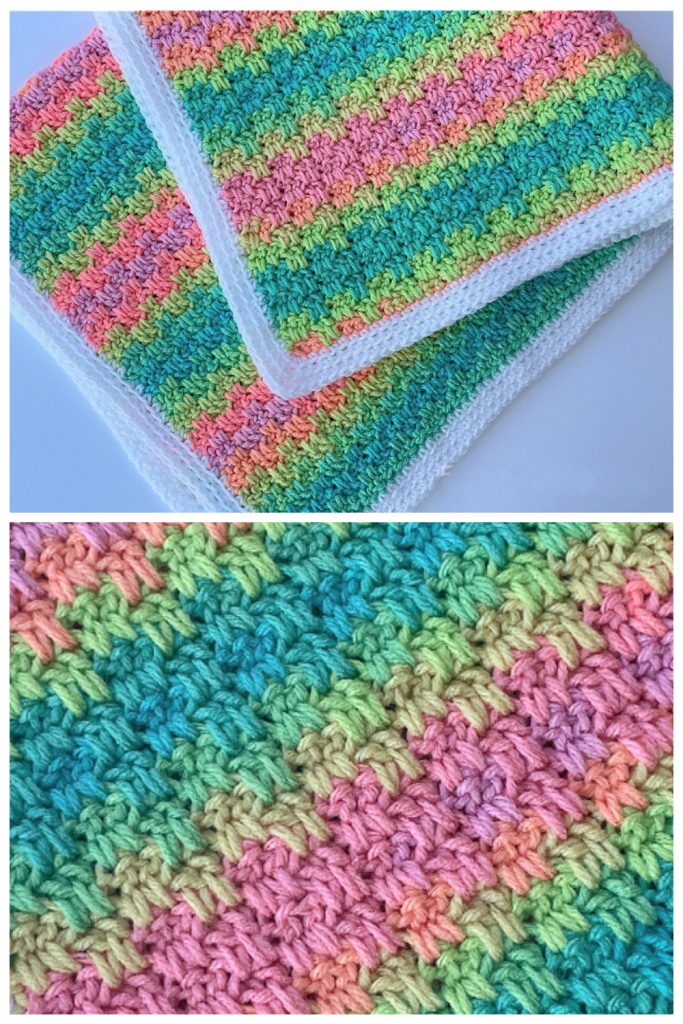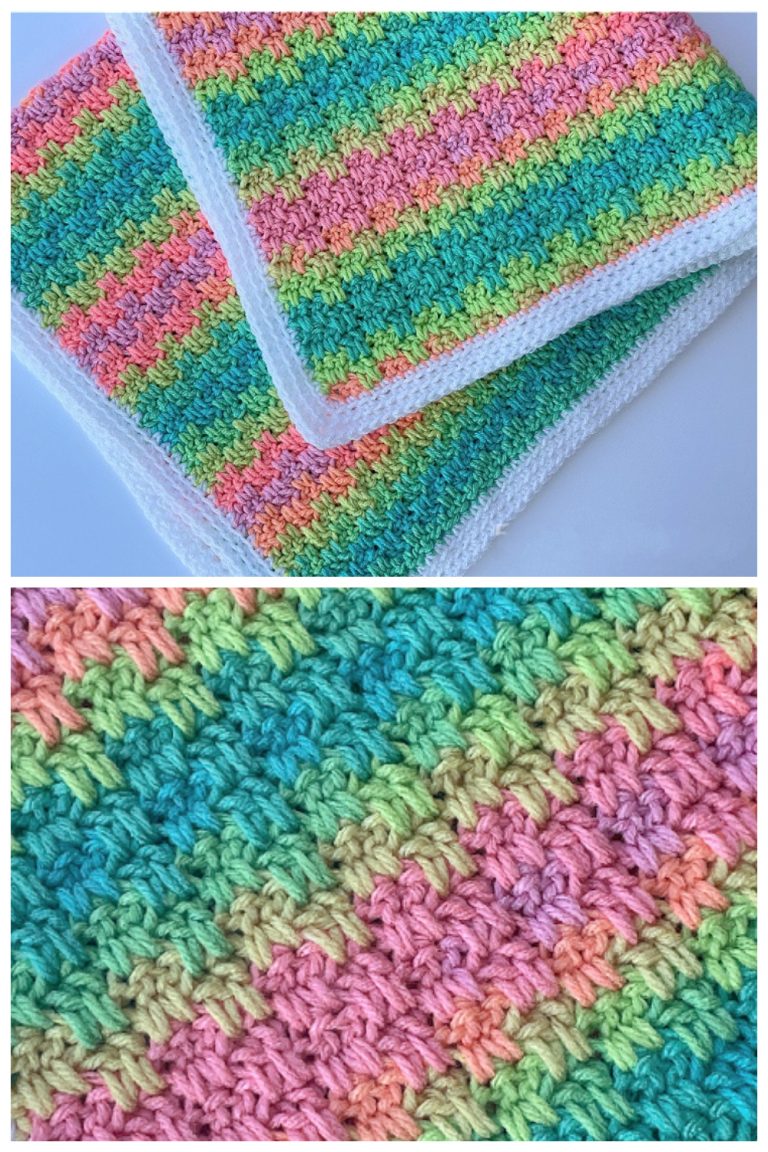 It creates a pretty dense fabric. I finished the blanket off with a simple single crochet border in white to add a little contrast.
You may also like these Crochet Stitch Patterns:
While you're in the crafting mood, check out our favorite Crochet Stitch Patterns too!
If like me you're always looking for patterns, Well I am here to take the frustration out of searching for your next pattern. The crochet community has grown last few years and many designers are setting up their own websites and hosting their own patterns. I like to find and show you these independent designers and bring their fabulous projects to you. Please always visit and thank the individual designers for their generosity.
Happy Crocheting to you !