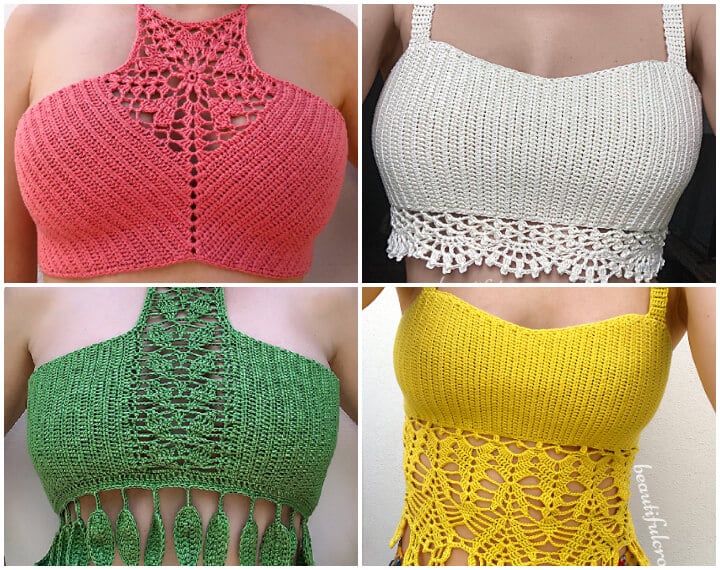 Learn how to crochet these Top 4 Crochet Summer Crop Top Patterns. These free crochet crop top patterns are also accompanied by a video tutorials. It's hot summer so far, so it's the perfect time crochet a little summer top to keep cool. These fun little tops are very trendy right now. Crochet crop tops are always in trend. It is my favorite kind of crochet projects. I really love to design the patterns and crochet them. See our crocheted top guide to pick out something for yourself. Remember that each Crochet Summer Crop Top Patterns can be crocheted to a longer length and transformed to a halter top or sleeveless top. It's not too late to start the Summer crocheting, when many of us ladies go to the beach for relaxation.
You may also like the following free pattern tutorials :
1. Crochet Boho Crop Top
2. Crochet Pineapple Crop Top
I would love to see a picture when you're done, so please feel free to come by our Pinterest Group and show off your project! Bookmark this page to visit us again.
Thanks for visiting! Follow Crochet-Kingdom on your favorite social media sites: Pinterest, Facebook.
Crop Halter Leaves Top – Today we will learn how to crochet two types of leaves and make this charming crop top.

Written Instructions
2. Halter Heart Crop Top – Today we will learn how to crochet a halter top with this square because of summertime! But you can use it for many other crochet projects such as shawls, scarfs, blankets or dresses.

Written Instructions
3. Crop Boho Top – It's a perfect and unusual pattern for any crochet skirt bottoms, tops or tablecloths. I hope you enjoy this edge as the previous one.

Written Instructions
4. Crop Top Lace Edge – Today we will add a lace edge to the bottom of the top. You even could make a dress using this pattern, just repeat the second round as many times as you need.

Written Instructions
If like me you're always looking for patterns, Well I am here to take the frustration out of searching for your next pattern. The crochet community has grown last few years and many designers are setting up their own websites and hosting their own patterns. I like to find and show you these independent designers and bring their fabulous projects to you. Please always visit and thank the individual designers for their generosity.