If you're looking for some inspiration, here are 8 Free Crochet Summer Top Patterns that you can try out! Crochet is a wonderful hobby to have during the summer months. Not only is it a relaxing way to pass the time, but you can also create some amazing summer tops that will keep you feeling cool and looking great.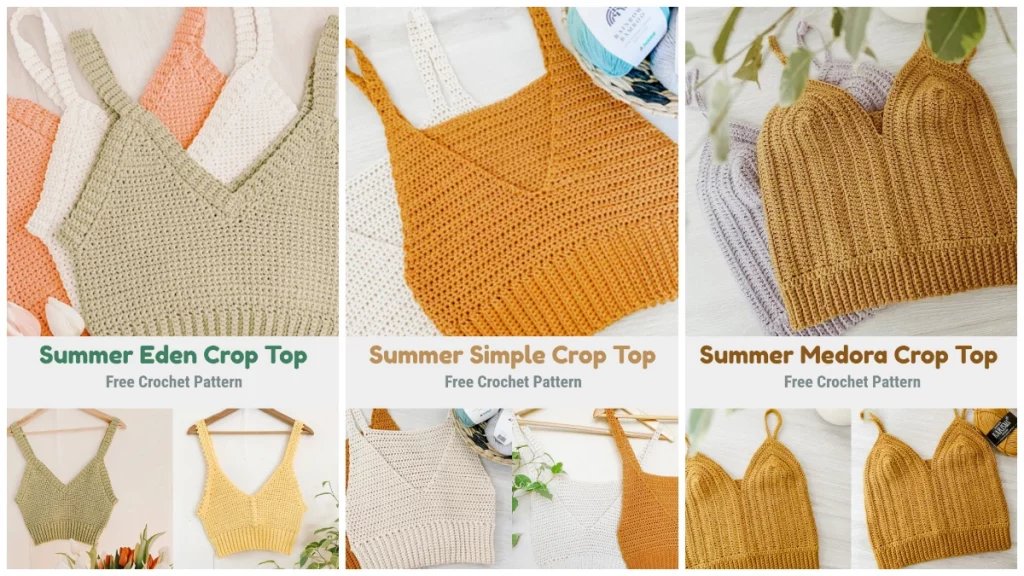 One of the best things you can create during this time is a crochet summer top. These tops are lightweight, easy to wear, and add a touch of handmade style to any outfit.
How to Crochet Summer Top Patterns ?
Whether you're a beginner or an experienced crocheter, there are several steps you can take to make the process as smooth and enjoyable as possible.
First, choose the right yarn for your project. When crocheting a summer top, it's best to use a lightweight yarn that will keep you cool and comfortable. Cotton, linen, bamboo, and other natural fibers are great options that will feel soft and breathable against your skin.
Next, select a Crochet Summer Top Patterns that suits your style and skill level. There are many free crochet summer top patterns available below, ranging from simple and classic designs to more complex and intricate patterns. Choose a pattern that you feel comfortable with and that you're excited to work on.
Crochet Eden Crop Top
The Eden crop top uses very simple stitches and has very minimal shaping, so I would really suggest this pattern to anyone, even a newbie. The top is created by first making the waistband ribbing. Once we have accomplished the right length for your size we will join the two ends together and crochet simple single crochet stitches in the round. After completing a few rounds we will be diving the piece in two to create a v shape to the top. Both the front and the back are the same.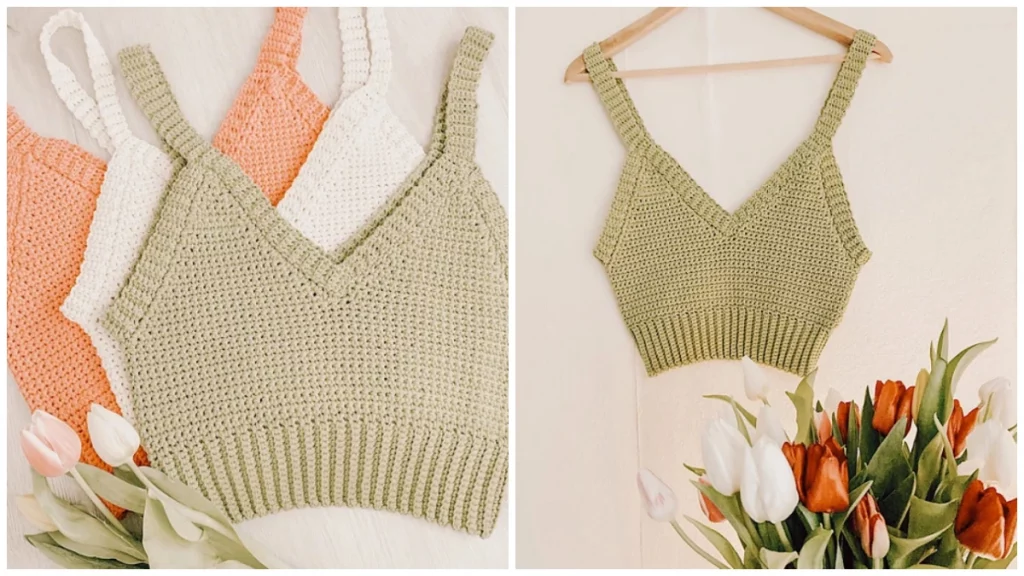 Measurements: This pattern follows sizes S(M, L, XL)
Gauge: 15 sc by 21 rows using 5mm hook
Yarn: Yarn – Paintbox Cotton Dk – light/weight 3/DK/8 ply ~50g/1.8oz/125m/137yds
Using 3.5mm hook
Ch 16
Row 1: sc in 2nd ch from hook, sc in each ch to end. Turn.
Row 2: ch 1, sc in BLO in each st across. Turn.
Repeat row 2 until you reach row 102(110, 118, 126).
Slst the two ends together to form a circle. We will now be working in rounds.
Crop Top Written Pattern – crochetwithcarrie.com
Crochet Neith Top
The Neith Top is crocheted by making two simple rectangles using the ever so popular granny stitch. The length of your initial chain should be long enough to go from your under bust, up around your shoulder and down your back. Once you are happy with your chain length we will crochet a certain amount of rows until the rectangle is wide enough to cover one half of your chest and fall below your shoulder. You will then make another piece the same way.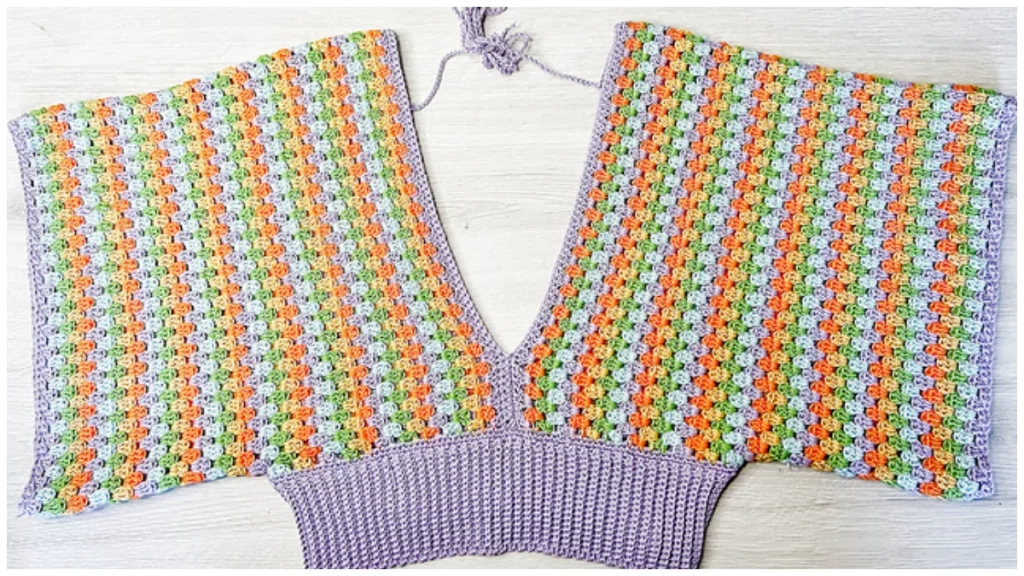 Sizing & Measurements: This pattern does not give precise sizes but it does give you the proper steps needed so you can make the top to your own specific size.
Yarn: Yarn – sport/fine – Hobbii Twister Solid – 55% cotton, 45% acrylic – 400m per ball.
Using the 3.5mm hook:
Chain to your preferred "measurement A" as shown in diagram above.
Row 1: sc in 2nd ch from hook, sc in each ch across, turn.
Row 2: ch 3 (counts as a dc here and throughout), *skip 2 sts, 3dc in next st, rep from * across until 2 sts rem, skip next st, dc in last st, turn.
Row 3: ch3, 2dc between first dc and next dc, *sk next 3 dc, 3 dc between last dc and next dc, rep from * across, skip next 3 dc, 2 dc between last dc and tch, dc on top of tch, turn.
Neith Top Written Pattern – crochetwithcarrie.com
Crochet Medora Crop Top
Learn to crochet this quick and easy crop top. The Medora Crop Top works up quite quickly so you will be able to whip up a few in all your favorite colours in no time. You can make the top longer or shorter by simply adding or subtracting your foundation stitch count. For a smaller or bigger top than what the pattern instructs, you can simply do less or more rows. So as you can see this top is perfect for all body shapes and sizes.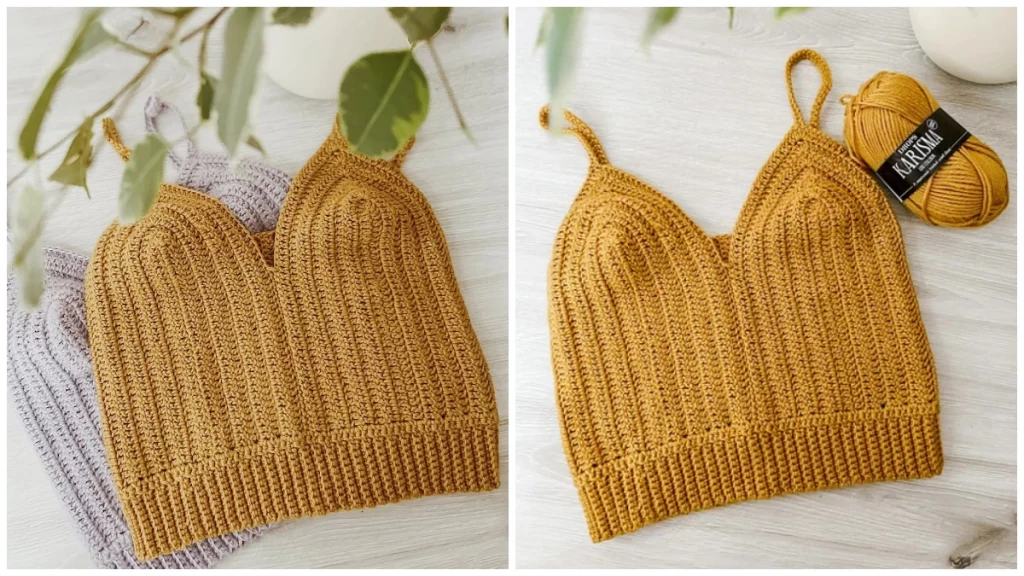 Yarn: any Dk/light/weight 3 – acrylic/wool blend
Quick and Easy Crochet Crop Top
Neith Top Written Pattern – ravelry.com
Simple Crochet Summer Crop Top
Learn how to crochet this quick and easy crochet crop top. This crop top is the perfect everyday staple, taking you right through the summer months. This beginner friendly crochet top uses simple stitches such as the single crochet and half double crochet, perfect for crochet enthusiast!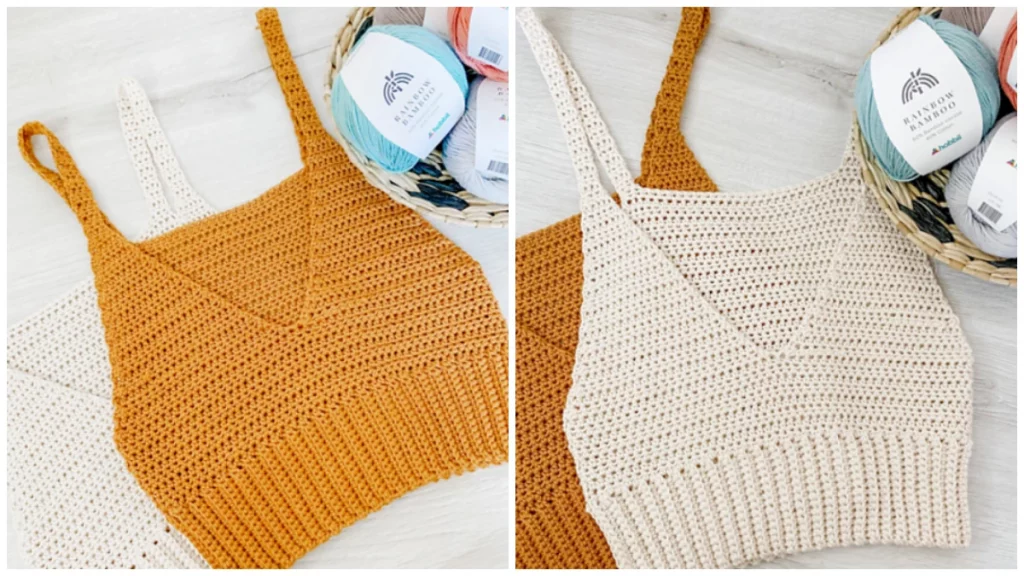 Yarn: Hobbii Rainbow Bamboo – weight 2/ sport/ fine – 100g/ 250m/ 273yds
Simple Crop Top Written Pattern – ravelry.com
Crochet Summer Tank Top
Learn to crochet this super quick and easy crochet Lyra crop top. Perfect for the hot summer months ahead this top is a must have in any wardrobe.
This free written pattern is accompanied with a step by step video tutorial.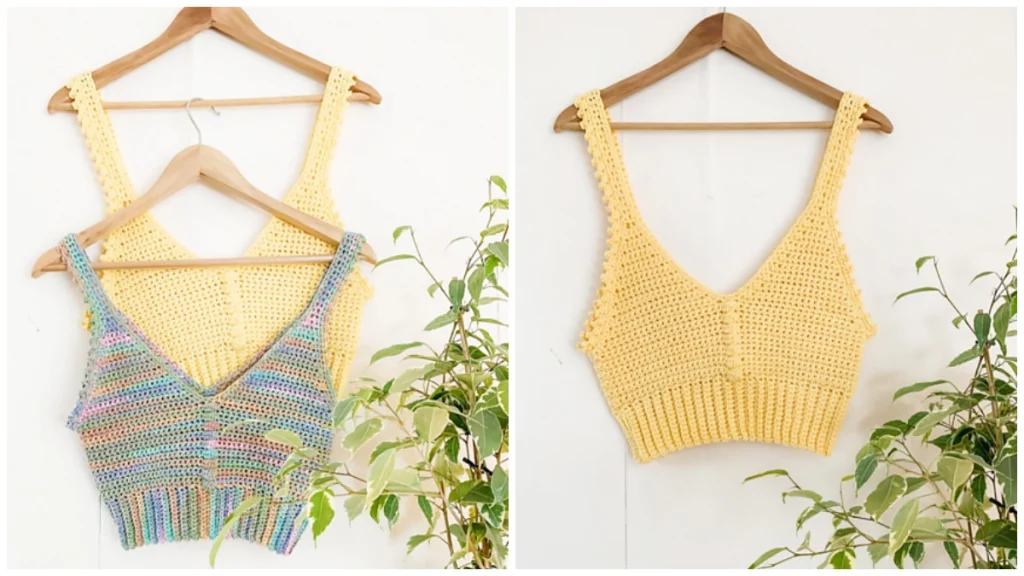 Yarn: Rico Design Creative Colour Coated Cotton – weight 4/ worsted/ 10 ply – 50g/125m/137yds
SPECIAL STITCH: POPCORN STITCH: (yo, insert hook in designated st, yo and draw up loop, yo draw through 2 loops on hook) 5 times, yo draw through 6 loops on hook.
Lyra Tank Top Written Pattern – crochetwithcarrie.com
Zara Crop Top
The Zara is the perfect beginner friendly project. It uses very basic crochet stitches to create a modern wearable crop top. This crochet top is worked in one piece from the bottom up. First we will crochet the ribbed band, the using simple stitches we will create the main body and after a little shaping we will add the edging. I think the edging is one of my favorite parts of this top. It just gives the top a little something I think.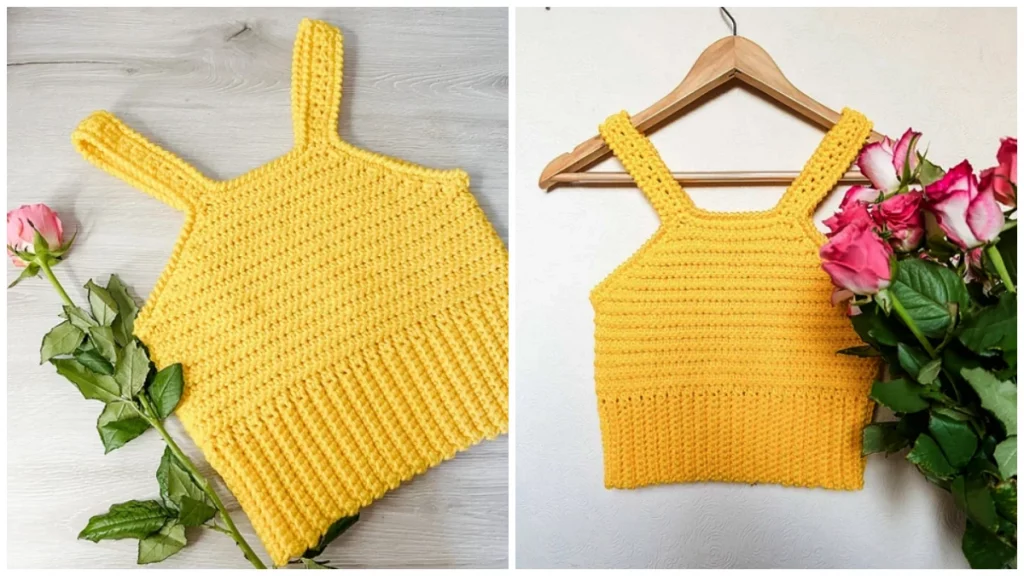 Yarn: Any yarn of your choice. I used Hobbii Mega Ball Aran (approx 250 yds)/ weight 4/aran/ 10 ply
Using 4.5 mm hook
Ch 15
ROW 1: sc in 2nd ch from hook, sc in each ch to end. Turn.
ROW 2: ch 1, scblo in each stitch across. Turn.
Rep row 2 until band is long enough to go around your under bust. End with an even number of rows. Take note of the number of rows.
Slst the two ends together.
Turn right side out so the seam is in the inside.
Zara Crop Top Written Pattern – crochetwithcarrie.com
Crochet Summer Fruits Tank Top
Crochet Summer Fruits Tank Top is one of the most popular item to make and wear in this hot season and they are my favorite crochet project as well because they super quick to whip up and it suit for the hot weather.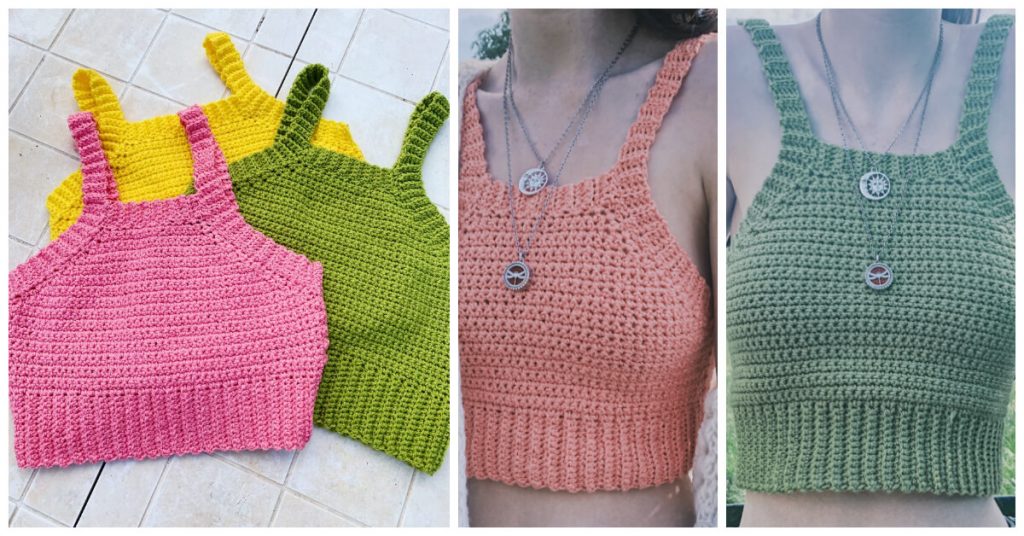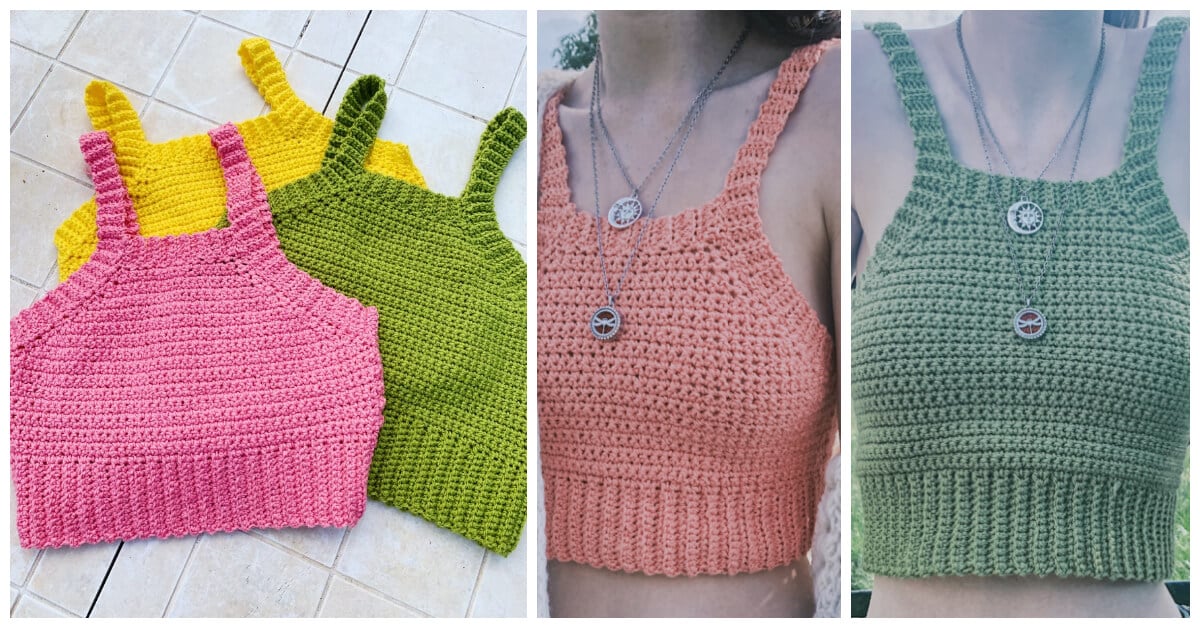 Crochet Summer Crop Top
Crochet Summer Crop Top is the kind of project that will make your friends gasp at your skill, even if the technique was fairly simple. Are you looking for something simple but stylish for your summer wardrobe or festival and want to try your hand at customizing your own top? You have come to the right place!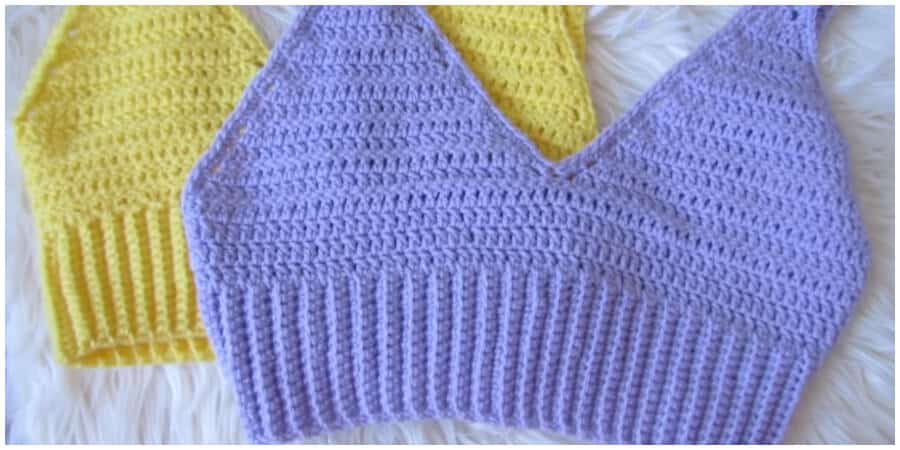 Follow Crochet-Kingdom.com on your favorite social media – Pinterest – Facebook – Instagram
While you're in the crafting mood, check out our favorite Summer Top Patterns too!
Well I am here to take the frustration out of searching for your next pattern. I like to find and show you these independent designers and bring their fabulous projects to you. Please always visit and thank the individual designers for their generosity.
Happy Crocheting to you !