Have you seen this stunning stitch pattern before? Crochet Trinity Stitch Pattern is a unique stitch that combines crocheting and excellent texture. This pattern provides step by step instructions to help you through the entire process.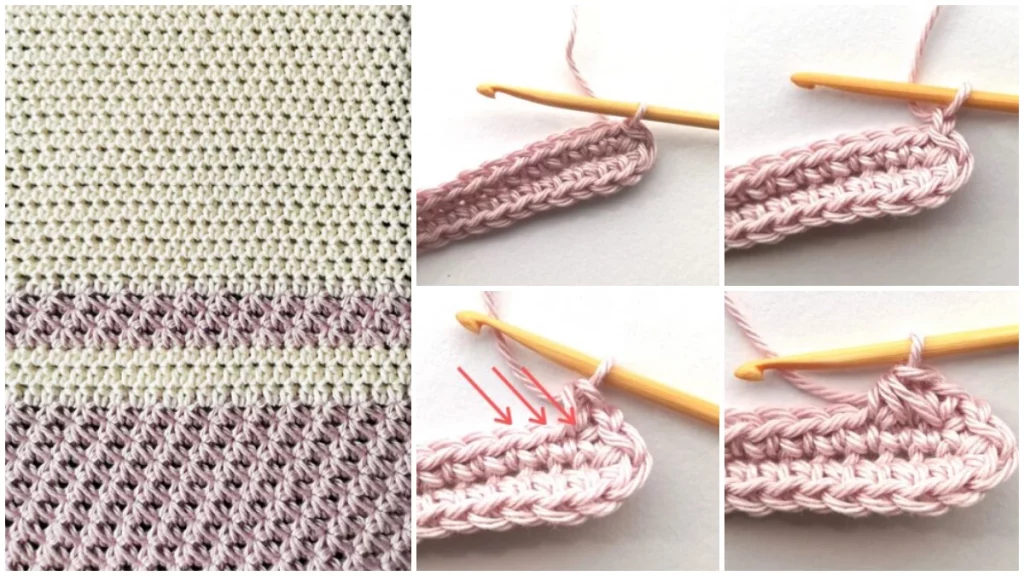 The Trinity Stitch would also make lovely scarves, hats and blankets. This stitch tutorial takes you step by step through the trinity stitch. It includes written instructions with photos and a video tutorial to help you learn it.
The Trinity Stitch only has one row repeat that you need to remember, making it great for any mindless-type project! The clusters are a little tricky at first, but once you get the hang of it it's very easy to work practically without thinking.
You may also like these Crochet Patterns:
How Do You Make The Trinity Stitch?
The Trinity stitch consists of chain stitches and single crochet decrease stitches. This stitch gets its name because there are three vertical bars per stitch. You do need to know how to make a single crochet three together, but once you get the rhythm going this stitch is easy as pie.
The trinity stitch is great to crochet when you are looking for a material with no gaps or holes. This could be great for dishcloths, hot pads, blankets, or a warm sweater.
Is The Crochet Trinity Stitch Beginner Friendly?
We would rate this stitch around advanced beginner or possibly intermediate. It's easy enough for a beginner to get the hang of, but it does have a few tricky steps you'll have to get used to.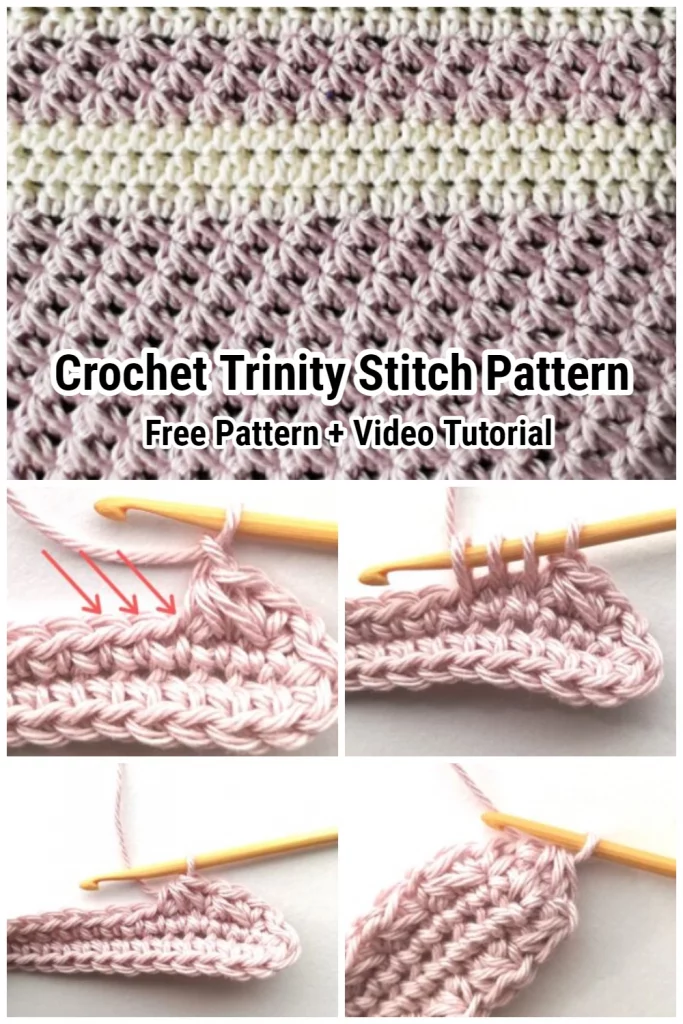 Materials you will need:
Any thin yarn will work. DIAMOND 8/4 mercerized cotton 100% 50 g. Colors: 201 (white) and 3304 (dark lilac).
Crochet hook (size recommended on your yarn label). I used size 2.0.
Crochet Abbreviations and Definitions:
Ch: Chain stitch
Sc: Single crochet
Sc3tog Cluster: Single crochet 3 stitches together cluster
Trinity Crochet Stitch Instruction:
Row 1: Ch a multiple of 2 (I chained 28 in my sample). Sc in 2nd ch from hook. Sc3tog Cluster (see instructions above) starting in the same ch as the previous st. *Ch 1, sc3tog cluster starting in the same ch as last leg of previous cluster. Repeat from * across. Sc in same ch as last leg of the previous sc3tog. Turn.
Row 2: Ch 1, sc in same st as ch 1. Sc3tog Cluster starting in same st as previous sc and then continuing in the top of the next cluster and ch 1 space. *Ch 1, sc3tog cluster starting in the same st last leg of previous cluster. Repeat from * across. Sc in same st as last leg of previous cluster. Turn
Repeat row 2 until piece is desired size.
No Holes Stitch Diagram
This Pattern has a Perfect for crochet dishcloths, baskets, scarves or blankets – this dense stitch has a beautiful subtle star / daisy design which looks gorgeous in both solid color or variegated yarns.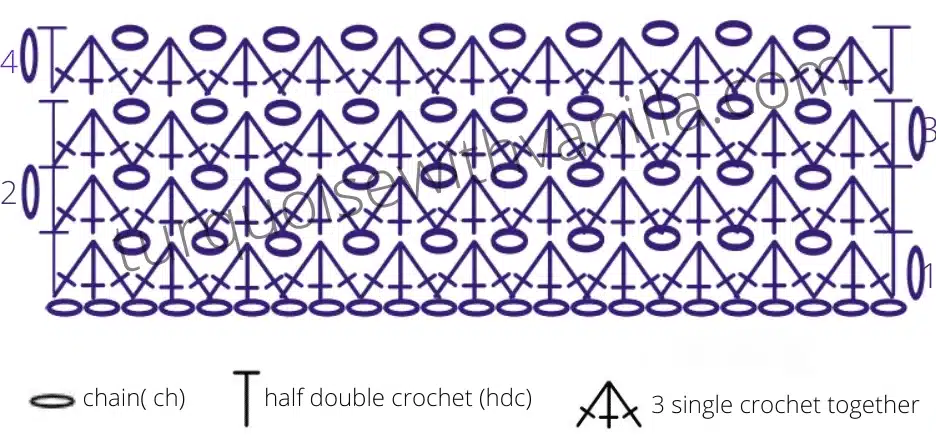 Such a Unique and Chic Crochet Trinity Stitch
Crochet Trinity Stitch – No Holes Stitch
PDF: If you prefer a printable PDF pattern without ads, you can buy it – nordichook.com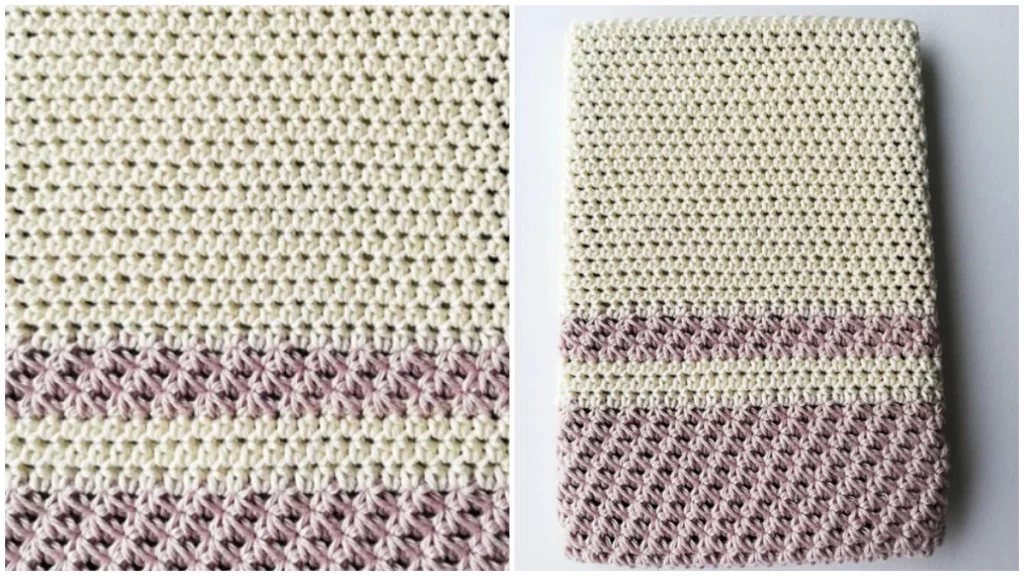 Conclusion:
Crochet Trinity Stitch Pattern opens the door to a world of creative possibilities for both new and experienced crocheters. This elegant stitch, with its charming clusters and delicate chain spaces, effortlessly adds depth and texture to your projects. As we've explored the step-by-step process together, it's evident that mastering this stitch requires a combination of practice, patience, and a touch of imagination.
Thank you for joining us on this crochet adventure. Remember, with dedication and creativity, your crochet hook can weave dreams into reality, and the Trinity Stitch is your magical thread to weave them with.
Follow Crochet-Kingdom.com on your favorite social media – Pinterest – Facebook – Instagram
Well I am here to take the frustration out of searching for your next pattern. I like to find and show you these independent designers and bring their fabulous projects to you. Please always visit and thank the individual designers for their generosity.
Happy Crocheting to you